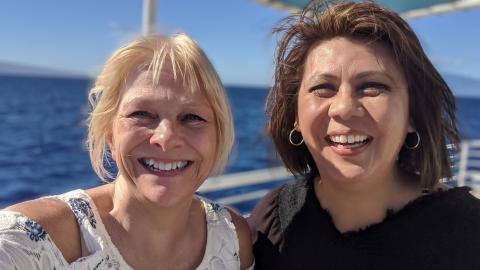 Elia Moreno and Me
Elia first came to a training I was doing in 2010 in Amarillo, TX. She later told me, "You wrecked my life." She said she thought she was understanding poverty and serving people well, but learned that she could do so much more. She was soon hired to coordinate the Opportunity Community efforts in Amarillo.
A perfect example of her commitment to her neighbors living in poverty happened after the second Amarillo Opportunity Conference. The community partners all went out to dinner to celebrate. Elia received a phone call, then turned to me and said, "I have to leave." It turns out that a single mom from the Opportunity Conference had called her. It was Friday and she was desperate to get diapers for her baby. A church had told her if she could make it to them before they left for the day, they would help. She used her last bit of money to take a bus across town. When she arrived at the church, they gave her only six diapers for the entire weekend. Elia left the celebration, picked up the mom, and got her diapers. Time after time, I have seen Elia drop everything to impact someone's life—just like she did for this single mom.
Within three years, Elia was certified as a Beegle Poverty Coach. Soon after, we contracted with her to be our National Program Director. Elia works with organizations to bring the Beegle Poverty Immersion and Coaching Institutes to their community. She also serves as one of our Opportunity Coaches—assisting communities in building their capacity to implement and sustain our Opportunity Community model in cities around the country. She is also one of our top Beegle Speakers.
Elia has devoted her life to making a difference for people who live in the crisis of poverty. She walks her talk! We are so fortunate to have her as part of our Communication Across Barriers team.