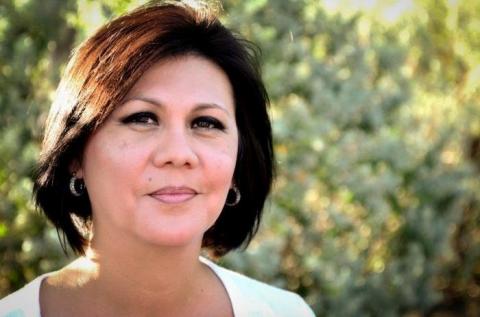 Seasoned Beegle Speaker and Coach Shares Successful GED Model
Elia Moreno, a seasoned poverty expert, wears many hats and titles – her latest, Founder and CEO of Living Intentionally Ministries, a community space in Amarillo, Texas that provides support to adults seeking a GED, with a focus on removing barriers that individuals might have to accessing education and opportunities. The center opened less than a year ago and is currently serving 170 students. She shares with us what makes her program unique and successful.
"First, we make it easy and we treat people with dignity. There are no hurdles to jump," says Moreno. Easy access includes no screening process. No income restrictions or guidelines. "We serve people who have recently gotten out of prison, teen moms, anyone who wants to work on their GED, even if you make $100,000 a year," says Moreno.
Easy access to the initial GED assessment helps attracts students. Individuals can complete a 45-minute assessment either during office hours at the center or anytime they have access to a computer outside of the center. "After completing the assessment, people often become encouraged and think 'Maybe I can do it,'" says Moreno.
The goal is to instill hope and provide connections to opportunities. "Some people who come to the center are not employed. Then, they graduate with their GED and start earning an income, even if it is just $8-10 an hour," Moreno says. "This gives them hope that they can obtain gainful employment and maybe even pursue educational opportunities." Proud of the success they are having, Moreno says that—of the 24 recent GED graduates—7 of them have gone on to college.
Self-paced services help create personalized plans to meet individuals where they are and guide them to completion. If initial assessment results shows a student is ready to take any of the four GED tests, they can do so right away. Students are not required to complete any classes. Classes are available for those who would like to participate. "Some people finish all of their tests in a few weeks while others may take a couple of years," Moreno says. Support is personalized in a way that also provides privacy. No one knows if an individual struggles with math or literacy.
Failure is not an option for Moreno. No matter what an individual's literacy level, Living Intentionally Ministries will help either in-house or through partnerships. Currently, they are working to implement a literacy program. "Through that process, we learned that the Language Arts portion touches on U.S. History, which creates a barrier for some. In addition to their limited literacy, they don't have enough background information in U.S. History to be successful in the literacy class. We have also found that if a student didn't take U.S. History or was absent a lot, they will not be able to answer the questions correctly—no matter how strong their literacy skills are." So Elia and her team are teaching US History and showing videos to help make history come alive for their students.
Whatever barriers an individual has, Moreno and her staff work tirelessly to remove them in a way that shows people they matter and are important. Moreno says they could not do this without community partnerships, which she strives to continue to build and maintain. "We recognize that people have barriers such as transportation and childcare. We help them access resources so that they can move forward. And there is no label of shame. Our job is to serve people in a way that imparts dignity."
Moreno has always had good intentions of helping people move out of poverty, but this strategy has not always been her approach. "I met Donna [Beegle] about 12 years ago and she wrecked my life." Moreno jokes. "I was thinking that I was doing everything right. Once I learned about poverty from her, I had to change how I was working with people.  I've always considered myself caring and compassionate, but, after the trainings, I was better able to listen to what the person I was serving needed, rather than giving them what I thought they needed. " she says. "Since meeting Donna, I have evolved."
Using the principles of Communication Across Barriers, Moreno has positively impacted her community in several capacities over the last 10 years and has also been working closely with Dr. Beegle in various capacities. Her first time working with Dr. Beegle was when she assisted in establishing the Amarillo Opportunity Community, a program that has served over 2,200 adults and over 4,000 children of these families. Since then, she completed the Beegle Poverty Coach certificate in 2010 and has been a Beegle Speaker since 2014, speaking across the country to various organizations. Moreno also serves as Dr. Beegle's National Program Director for the Opportunity Community program. If you are interested in implementing the Opportunity Community model in your city, please contact Elia Moreno at Elia@combarriers.com.
Moreno has also found time to write two books about her experiences with serving people in poverty. "Living Intentionally: Mastering the Art of Impacting Others in Just 90 Seconds" was released six years ago. It details the strategies she learned to connect with people she serves. After years of working with people in poverty, her more recent book,"Permission to Rest," discusses the process of growing weary of serving. "We need self-care to continue to allow compassion,"she says. Books can be purchased as www.noexcusesu.com.
In addition to overseeing the Living Intentionally Community center and working with Dr. Beegle, Moreno also serves her community and country in several other capacities. She currently is Co-Executive Director of Texas Christian Community Development Network. She is also the National Director of Community Outreach for the No Excuses University Network of Schools, a growing network of 250 schools that promote college readiness for all students, especially those living in poverty.
In a future newsletter, we will ask Moreno to reveal the super power she possesses that gives her the ability to manage so much responsibility.