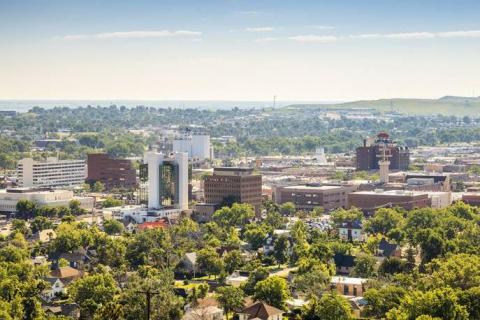 Rapid City, SD Embeds Over 300 trained Prosperity Coaches to Eradicate Poverty
You can visit Rapid City, South Dakota, but you may not see them -- over 300 Prosperity Coaches embedded throughout the city. They don't wear a uniform, but they are there, trained and ready to respond to people in the crisis of poverty. This unique approach to eradicating poverty, based on the work of Dr. Beegle, has proven to be successful in this town of 74,000 residents.
The effort to become Poverty Informed began six years ago when the John T. Vucurevich Foundation invited Dr. Beegle to train staff and community partners on poverty and to get the conversation started on eradicating poverty. Out of this, the "Prosperity Initiative" was born, a community-wide initiative to become more poverty-informed and create long-term sustainable change for individuals and families. Since then, gover 300 individuals throughout the city have taken the time to participate in Dr. Beegle's Poverty Institutes and have been certified as Beegle Poverty Coaches, or "Prosperity Coaches," as the foundation and city refers to them.
We spoke with Jess Gromer, Program Officer, and Jessica Olson, Program Associate, of the John T. Vucurevich Foundation who tell us that since bringing Dr. Beegle in, the community has been transformed. Organizations collaborate together more than ever before. Prosperity Coaches continue to make progress. They meet regularly to address barriers clients are experiencing and have improved organizational polices and created access to resources for people struggling.
"It is still a buzz word in our community to be Poverty Informed," says Olson. Being Poverty Informed means that individuals share a common language that bring them together for the common goal eliminating poverty and striving to create an environment where everyone thrives. "It really is a collaborative effort to help individuals get over the barriers they face," says Gromer.
On average, about 35-40 coaches meet monthly to discuss working with families and individuals who are experiencing poverty. "Coaches are highly integrated into the community," says Olsong. "They brainstorm solutions, encourage one another, and discuss policy changes to help remove barriers for people who are struggling."
Policy change is one area that Prosperity Coaches have made an impact. "Western Dakota Tech (WDT), our local technical college, has really embraced becoming poverty informed," says Olsong. "The entire faculty and administration went through Dr. Beegle's poverty trainings." The college now has a Student Success Center, staffed with Prosperity Coaches who provide support services and connections to community resources for students in need. Among those resources, WDT has developed an emergency food pantry and has started an emergency fund. "When students are experiencing a crisis, they don't have to automatically drop out for the semester," explains Olson. "Instead, there are now trained individuals to help students through those barriers."
Brand new access to housing for people struggling is another achievement this Poverty Informed city is proudly anticipating. Through a collaborative effort from multiple individuals and organizations, three housing towers are under construction – one tower for families, one for men, and one for women. The project, called "OneHeart," is expected to be completed early 2021. But the community knows that housing alone is not enough to help people move forward. The towers will have space to provide on-site wrap-around support. The services will include building relationships with residents and connecting them to healthcare, mental health services, and education and job training to help them move out and stay out of poverty. "With a collaborative approach to services and supports being available in one location, this will provide hope and healing to move families and individuals out of poverty," says Olson.
Gromer says that the foundation has really changed since bringing Dr. Beegle in. "We are really making sure we look through the lens of poverty when we make decisions on what we fund," says Gromer. She recalls the first time she heard Dr. Beegle speak. "It definitely opened all of our eyes to working with individuals coming from poverty ... I absolutely learned a different perspective--particularly when it comes to generational poverty. It changed my approach."