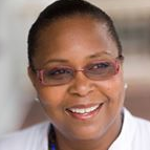 Sylvia Anderson
Everett, WA
Originally from El Paso, TX Sylvia Anderson has been part of the Pacific Northwest's Non-profit arena for over 32 years. Currently, she is the CEO of the Everett Gospel Mission in Everett, WA (since 2000). She had previously been the Executive Director of Big Brother's, Big Sisters' of Pierce County.
Her experience in the homeless and underserved community as well as her extensive training with Dr. Donna M. Beegle, makes her well versed in the poverty discussion--having developed, facilitated, and trained over 1000 people with various backgrounds, cultures, and professions regarding this issue.
Within her personal life, she currently sits on the Board of Directors for Providence Medical Center. She was appointed Co-Facilitator to the Everett Community Streets Initiative by former Mayor Ray Stephenson and was the 2017 recipient of the Ralli M. Hanson Inspirational Award. Beyond her community work and volunteering, Sylvia also is a licensed pastor, the co-founder of Kingdom relationships which discusses racial discourse, and was a foster mother for high risk boys for many years.
Her ability to teach and train has allowed her the platform as a facilitator with Youth for Christ. She has done many speaking opportunities, conferences, and retreats as the keynote speaker.