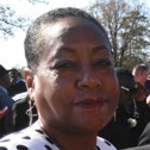 Joyce Coleman
St. Paul, MN
It wasn't until she heard Dr. Beegle speak in 2005 that Joyce Coleman, MSW, added poverty to her diversity backpack. This meeting has influenced her career path and led to her being better equipped to work with all students, especially those experiencing poverty.
Joyce is a first-generation college graduate who grew up in generational poverty in a small Texas town. She is the second of four children who were raised by a single mother and paternal grandmother after her father passed away when she was only four years old. Joyce's mom was a blue-collar worker with an eighth-grade education who raised and supported her four children by working as a janitor at the local university. Joyce says her mother's working-class advice to her four children was, "Go to college, and you'll get a good job." To this end, Joyce earned her bachelor's degree in criminology in three years from this local university because she wanted to get a good job! She was successful in college because one of the professors, Dr. Weisenhorn, in her mom's assigned work building became her mentor and helped her to navigate the system. Joyce says without him she doesn't think she would have remained in college. He taught her to "do" middle class because, as we all know, to be successful in college in America, a student needs to be able to act, speak, and write middle class. Twelve years after earning a bachelor's degree, Joyce returned to the University of Houston to earn a Master in Social Work. "I discovered that I wanted more than just a good job. I wanted an opportunity to 'make a difference' and, to quote Maslow, to be 'self-actualized'—a very middle-class value. I found this opportunity in community colleges."
Joyce is passionately invested in opening doors and empowering individuals to transform their futures through education! During the past 25 years, she has served as a community college vice president, dean, program director, and adjunct faculty in Oregon and California, and she says that as W.E.B. Du Bois pointed out at the turn of the 20th century, "the two-ness of being African and American have always resided within me" and has guided her personal and professional paths. Although she grew up in a segregated Jim Crow South, she is a civil rights movement beneficiary; this juxtaposition has informed her decisions and has profoundly shaped the course of her life and commitment to social justice, diversity, and inclusion with a focus on education, since education is an equalizer. At each institution, she has worked to weave equity literacy into the organization's tapestry, as it is only when service providers develop and grow the skills, knowledge, and consciousness that help them to recognize, respond to, and address conditions that deny some students access to educational and other opportunities enjoyed by their peers will we eliminate the many roadblocks so many students face daily. One key focus is providing opportunities for students to build relationships with faculty and staff.