If Not Me, Then Who?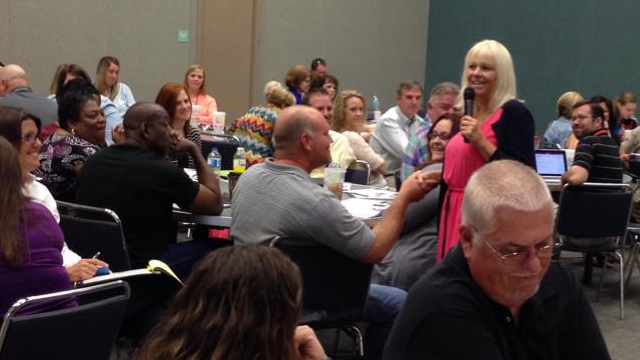 This training has two parts. The first part, (4 hours), is for everyone wanting to work with people in poverty and is full of information they'll need to do this. The second part (4 hours) is for people who would like to teach this curriculum to others, a "train the trainer" session. This would be idea for an organization wanting to deepen a large number of volunteers understanding, but do it in a very cost effective way. There is no better way than to have someone on site for this.
The full training comes with:
7 video segments (x minutes)
A guide book that acompanies the videos
A facillitator's guide
Empowering Our Neighbors
The 7-video segments, along with the companion materials (participant guide and facilitator's guide), are designed to assist individuals and organizations to go beyond addressing immediate needs (e.g., providing food boxes, temporary shelter, financial assistance with rent and utilities) to a more systemic approach for helping our Neighbors move out and stay out of the crisis of poverty.
Make a difference for your Neighbors who live in the crisis of poverty
Develop a deeper understanding of the many different life experiences of poverty?
Develop best practices and tools for breaking poverty barriers, improving outcomes, and changing lives in your community?
Increase your poverty competency skills—improving communication and relationships, as well as developing strategies for planning and creating systemic change?
Individual Skill Development:
This curriculum will challenge you to reflect deeply on what you believe about poverty and the people who live in it – examining how your perspectives impact the ways you communicate and relate with those you wish to empower. It will also provide proven strategies and practical action steps for improving outcomes for your neighbors who are living in poverty. By the end of this poverty awareness curriculum, you will see how you can use existing resources to change lives.
Capacity Building: These training materials can be used for information sharing and awareness building to increase the capacities in breaking poverty barriers and building systemic change within your community and/or organization. The facilitator's guide is intended to support you in introducing and assisting volunteers, staff, and community members to become poverty informed and armed with practical strategies for making a difference. This guide provides interactive learning opportunities (reflections, activities, role-plays, and guiding questions) for leading discussions and exploring the learnings from the video segments. The tasks, discussion questions, and tools frame reflections and dialogue about the actions each community member can take to increase opportunities for their Neighbors living in the crisis of poverty.This page describes the "If Not Me, Then Who?" conference in detail.
This poverty training was developed in partnership wiht Saint Vincent de Paul for use with their volunteer home visit program. Participants will gain tools to go beyond addressing immediate needs to a more systemic approach that helps our neighbors move out and stay out of the crisis of poverty.
Core components include strategies for:
Communicating across poverty barriers
Building relationships that matter
Strengthening community partnerships
Becoming a thought leader in you community