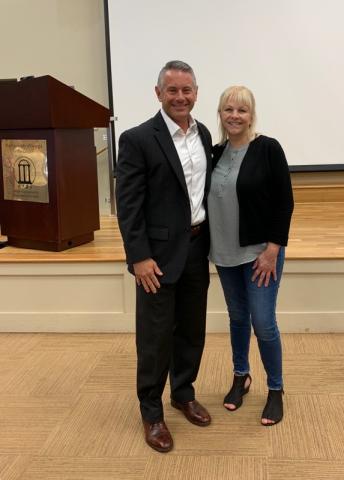 Leadership in Action – Superintendent Works with Dr. Beegle to Illuminate and Eliminate Poverty Barriers
Dr. Duncan grew up with mixed social-class experiences. He lived in an impoverished neighborhood, but on the skirts of a more affluent area where he attended school with other middle-class students. His father was a construction worker. His mother, who had a 6th grade education, stayed home with the kids. Growing up, he heard the way his mother communicated and related in the world and thought it was odd, different. "She didn't have the same social etiquette of my middle-class friends and I never understood that. She had some push back and some anger." It was at the Beegle Poverty Immersion Institute that Dr. Duncan finally understood his mom—gaining insights into some of the "whys" behind his mother's behavior. He realized that she had not had middle-class life experiences and exposures, thus she saw the world through a poverty lens. She endured a life of poverty, trauma, instability and had post-traumatic stress disorder. She grew up in a large family with nine siblings. They moved frequently. Many of her siblings ended up in foster care and/or juvenile detention. The realization of his mom's experience took Dr. Duncan to a new level of action. "After leaving the training, I decided that –as a district—we have to go deeper into understanding poverty and its impacts. We have to figure out ways for others in our community to go through this training so that we can flip the script and help others."
Dr. Duncan wanted more people educated about poverty and the evidence-based best practices that work to improve education outcomes. Over the course of the next year and a half, Dr. Duncan recruited others in the community to join forces. He shared his learnings from Dr. Beegle and talked to a variety of leaders in the community: school board members, faith based organizations, non-profits, Chamber of Commerce, workforce development, government, local banks, etc. "Every few months I would have lunch with a small group and bring people together to share poverty-informed information and develop common goals for breaking barriers." Eventually, he established a core group who were passionate about steering their community to authentic, meaningful change to improve outcomes for their neighbors isolated in poverty. "The idea was to start small. We are just at the beginning of our journey."
The core group grew to a broad spectrum of 30 community leaders who have all recently attended the Beegle Poverty Immersion Institute in Griffin, GA. Much of the tuition for attending the Institute was paid for through corporate sponsorships that Dr. Duncan received. He approached business leaders and was pleased that, "No one told me no," when he asked for sponsors. People were excited that efforts were happening to address poverty in their neighborhoods. Several of the community leaders continued to become Beegle Certified Poverty Coaches. Beegle Poverty Coaches are certified to train and educate their organizations and to develop action plans with measurable goals for improving outcomes for students and families who live in the crisis of poverty.
Over the next six weeks, Dr. Duncan will bring his team together for education and strategic planning with community partners. "Our strategy is to ensure all staff and leaders are poverty informed. We want to gain empathy so that everyone feels inspired to remove poverty barriers. I want to challenge my staff and others to help think of what we can do for a lasting impact. We want to try to develop a deeper understanding of what will make a real difference."
Dr. Duncan knows that change must not be dictated or pushed on the community from a few alpha leaders, but instead, evolve from the community and students and families who are currently fighting poverty. They plan to reach out to those living off the grid, build relationships, and engage them in the process. "Most great things happen with intentional increments. We want to build something that is sustainable over time."
He adds that, "We can't do our part without Dr. Beegle and her team at Communication Across Barriers (CAB) to provide us with more education, training, and layers to move forward." We at CAB are ready to support Dr. Duncan and his partners on their journey to improve outcomes. We can't wait to hear of (and share) their continued success.