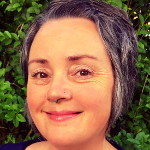 Liz Snyder
Olympia, WA
Liz Snyder is the program coordinator for the Independent Living Skills and SETuP programs at Community Youth Services in Olympia, Washington. The Independent Living Skills and SETuP programs both work to support youth and young adults in making the transition from state foster care to adulthood. Liz has worked in social services supporting youth for 15 years, including as program manager at Brentwood Group Home and team coordinator for the Washington State Reading Corps. Her entire career has brought her to witness firsthand the effects that poverty can have on youth and young adults. Having grown up in generational poverty and being a first-generation college student, Liz also has personal experience with the crisis of poverty.
Liz's personal and professional experience combined have kept her closely connected to the war zone of poverty. This has inspired Liz to fight for social equity and to dedicate her life to helping communities understand the reality of living in poverty and the effects poverty can have on people. As a new Gold Star speaker, Liz is excited to increase her ability to impact a broader audience and to help eventually eradicate poverty.
When Liz isn't out fighting for social justice, you can find her enjoying the Pacific Northwest with her two beautiful daughters.