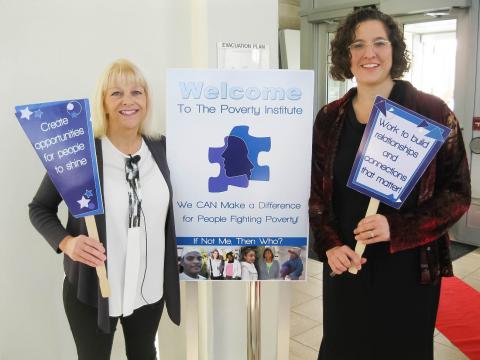 Community Partnerships Create Institutionalized Poverty-Informed Supports
After six years of partnering with Dr. Beegle, Century College is going strong with ground-breaking supports from staff and community for students living in poverty. Improvements include a more poverty-informed approach to reaching, retaining, and ensuring college completion, and community support has become more sustainable, ongoing and institutionalized into the culture of Century college and its community.
Beegle Poverty Coach and Century College Advising Counselor , Michele Jersak, spearheaded efforts in 2013 to bring Dr. Beegle in for a staff training.  Since then, the college has hosted three Beegle Institutes, training hundreds of administrators, faculty, and staff -- including staff at partnering colleges, community members, and K-12 leaders.  After hosting the first Beegle Institute, Jersak remembers that a lot of the feedback from Century College staff was, "Wow! We didn't know students were struggling."  Training staff to become poverty informed has been transformative. "The work Dr. Beegle has done with Century College and other Minnesota colleges has had many impacts," says Jersak. "Faculty and staff report seeing their students through a new lens and are able to build stronger connections for removing poverty obstacles."
In addition to improving staff knowledge of poverty, a deeper level of support emerged from the community after Century College partnered with Dr. Beegle to implement the Opportunity Community program. This model includes a community-wide "Leadership for Change" event and a "Student Success Summit" to increase community partners. Over 100 community partners came to the first Beegle Student Success Summit to learn how they could join efforts and improve outcomes. "After the Opportunity College model was implemented, we were able to align with partners we never had collaborated with before to remove obstacles students were facing," says Jersak. "Those partnerships are still operating and growing."
One example of the impact of community support is illustrated with the evolution of the "food shelf" which has grown into a cutting-edge service for students in need. Before learning about Dr. Beegle, Jersak and staff struggled to keep a shelf stocked with dry food for students who were in need. After implementing the Opportunity Community, the college now has a strong support from community members that are committed to making sure that no student goes hungry. The support is far from a one-and-done act of kindness. All throughout the month, community volunteers come to campus on a set schedule to stock the food shelf with fresh fruit, vegetables, dairy, and sandwiches. A local church raised funds to purchase a refrigerator with a glass door to showcase available chilled items. Another community organization that has large trucks rescues food from grocery stores that would otherwise be thrown out and brings them to the college. "It is now like a farmers' market," says Jersak. About 80 students a month frequent the center for a daily meal that includes sandwiches and other items students can eat right away or grab-and-go.
But many students do not grab-and-go. With community support, the center has turned into a dedicated space where students feel comfortable hanging out and getting connected to resources. The "Resource and Support Center" is ran by students who do intake and connect peers to community agencies to get their basic needs met -- such as housing, clothing, jobs, etc. "When you have spaces like this on campus, it helps to have students run it." says Michele. "Then, it's not just a counseling center any more, so students feel comfortable walking in."
Jersak says that the bottom line is that being a poverty-informed college and community has helped them to know students better and made community partnerships a priority. Dr. Beegle and our CAB team are proud of Jersak, the staff and faculty at Century College, and their community partners for setting a great example on what is possible when we work with students to remove poverty barriers. We can't wait to hear what they do next.