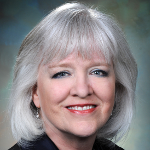 Anette Carlisle
Amarillo, TX
Anette Carlisle has a long history of involvement in education, in governance, and in working to make a better Texas. A visionary community leader with a scientific approach to solutions, Anette is a social entrepreneur. She addresses root causes of systemic problems by using data analysis, integrating existing resources, and building diverse teams to drive community change. Anette is well-known for her persistence in recruiting participation for community change.
First elected to the Amarillo ISD Board of Trustees in 1996, Anette has served as President for five years and as chair of its Legislative Committee for much of her service. Recognizing the need for increased collaboration to address the challenges facing the community, Anette worked with other community leadership to create Panhandle Twenty/20, an organization whose mission is to create positive change.
Now as Director of Panhandle Twenty/20, Anette works to engage the community to solve its own challenges. She led the first community study for Panhandle Twenty/20 focused on improving educational attainment in the region. This work by Panhandle Twenty/20 played a critical role in the Amarillo Area Foundation receiving the Partners for Postsecondary Success Grant from the Bill and Melinda Gates Foundation. The result of this work has become the No Limits No Excuses community project.
Poverty being one of the major barriers to educational success and a living wage job, Panhandle Twenty/20 then focused on helping create systems to move people out of poverty. Embracing the work of Dr. Donna Beegle and working with the Amarillo community, Anette brought the innovative Navigator Program to the area with the community's first Opportunity Conference in 2010. The second Opportunity Conference was held in April of 2012. As a Poverty Coach, Anette works with organizations and churches to connect volunteer mentors to low-income families and help them navigate their way out of poverty. The Amarillo Navigator program has been embraced by churches, civic and nonprofit groups, and the community at large.
Anette is also cofounder of Trustees for Texas, which is focused on creating a common vision and a unified voice for public education in Texas. As challenges facing public education grow, the need for a common vision, focus, and direction increases exponentially. Anette is a passionate advocate for building a stronger Texas through a transformed and invigorated public education system.
A native of Borger, Texas, Anette is a graduate of Texas Tech University with both a Bachelor's and a Master's of Science in Zoology. Anette is a graduate of Leadership Texas, is a Texas Fellow with the Center for the Reform of School Systems, and is a certified Poverty Coach and Gold Star Presenter with Communication Across Barriers. Anette received the 2007 Amarillo Globe News Headliner of the Year Award and the 2008 Amarillo Women's Forum Distinguished Service Award.
Anette is married to Taylor Carlisle, an infectious disease doctor at the Amarillo Diagnostic Clinic who is a patient and enthusiastic supporter of her endeavors. All three of their creative boys attended Amarillo public schools.